Since 2004, air passenger rights have been defined by the European Commission under Regulation 261/2004. This regulation protects passengers in case of delays, cancellations and overbooking.
When does the regulation apply?
If your flight departs from an airport in the European Union.
If your flight arrives in a country in the European Union from a country outside the European Union and carried out by an air carrier of the European Union.
Furthermore, it is depending on (one of the) following conditions:
The flight has a delay of more than three hours.
The flight was cancelled shortly before departure.
You are refused on the flight due to overbooking by the airline.
Your flight times have changed drastically within 14 days before departure.
What are your rights if you need to wait at the airport? The airline must offer you meals, refreshments and two phone calls. Should the delay be longer, the airline also needs to book a hotel for you, including transportation to and from the airport. Usually you get compensation with vouchers. If you don't receive vouchers, you can retrospectively claim the cost with the airline.
During regular circumstances, above conditions apply and you will be entitled to compensation unless there is a circumstance of force majeure. For example if the weather is the cause of the delay, if there is a strike by third parties (e.g. Air traffic control) or if there should be a medical emergency landing.
The compensation depends on the distance to your destination: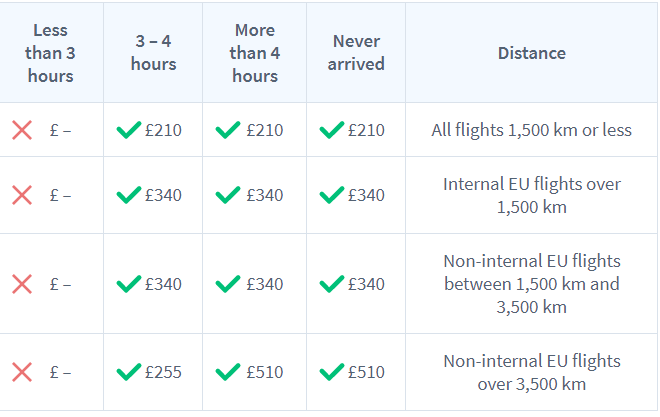 Via our partner Airhelp you can easily claim compensation. They evaluate your request, initiate legal proceedings if necessary and have extensive experience with these claims. The success rate is high.