When booking your airline ticket, you can also select a seat for a fee with most airlines. This is very handy, as this way you ensure that you are sitting with your travel companion(s), and you can select whether you have an aisle or window seat. Because every airline has a different seat layout and uses different benefits and prices per seat, we maintain the following layout.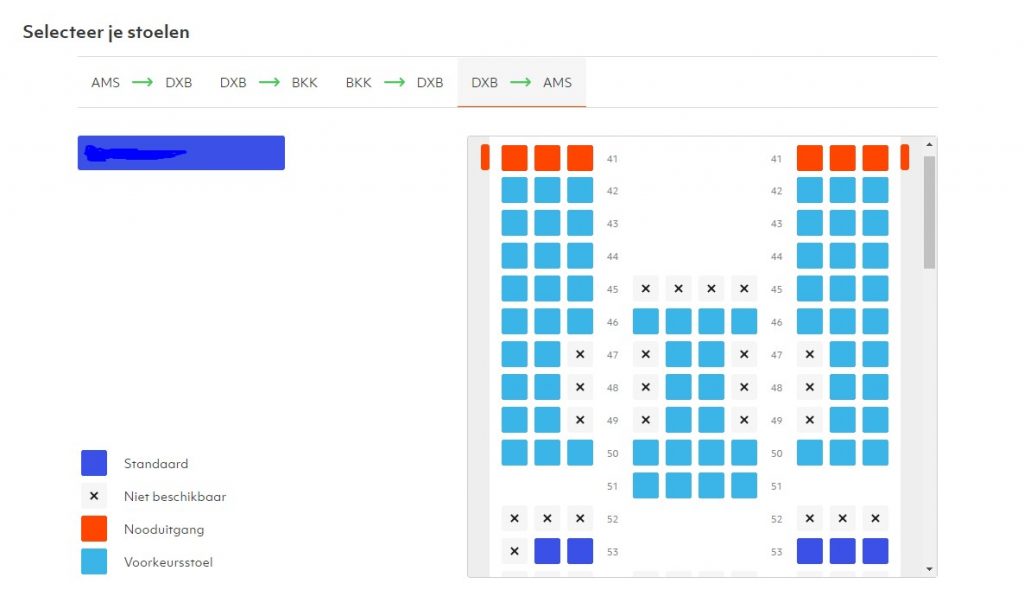 Emergency exit (extra legroom)
With some airlines you have the option to book a seat at the emergency exit when booking your airline ticket. These seats are shown in orange and in most cases offer more legroom. You cannot sit here if you suffer from a medical condition or are pregnant.
Preferred seat (economy seat in front section)
Preferred seats are generally seats in the front section of the aircraft. In terms of facilities, they are generally the same as the standard seats. They are indicated in light blue.
Standard economy seat
These seats are generally located behind the preferred seats and are standard economy seats.
Unavailable is displayed with an X
Not longer available.
Please note that it is possible that no seat choice is offered by the airline on certain flight routes. Seat numbers are also always subject to change, and depend on the aircraft type.
If you booked seats during or after reservation of your flight ticket(s), you will unfortunately not receive a refund of the costs of your reserved seat(s) in the event of cancellation.