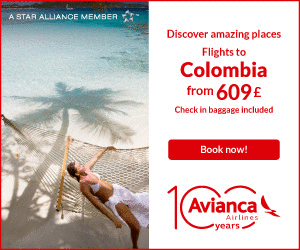 On your flight you will always have more benefits included.
Baggage included
All of our fares include checked and carry-on baggage. Check how many bags you can bring in our Baggage Policy.
More comfortable aircraft
In our Economy Class there is more comfort because we have modern aircraft such as the Boeing 787, Airbus A330, Airbus A321, among others.
LifeMiles program
Earn more miles to travel to your favorite cities and connect with the largest destination network in Latin America.
Corpora​te H​​istory
Avianca is the commercial brand that represents the Latin American airlines integrated in Avianca Holdings S.A. Its workforce of over 19,000 employees have been recognized to provide an excellent world class service. The Avianca airlines, specialized in air cargo and passenger transportation, serve more than 108 direct destinations in 26 countries throughout the American and European continents with its modern fleet of 189 short, medium, and long haul aircraft.
Through its membership with Star Alliance​, Avianca offers the possibility to connect to more than 1,300 destinations in 191 countries globally. Through LifeMiles​, the loyalty program, the airline offers a wide range of benefits and travel options to its 7,2 million registered members.
Avianca in numbers
(As of May 2018)
6,000 weekly flights
189 aircraft in our fleet
108 destinations in 26 countries
7,2 million members of LifeMiles