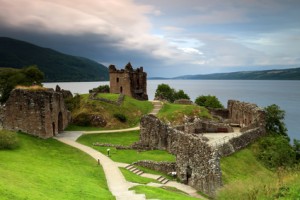 Scotland is a wonderful destination to travel during this season for those who are wondering to make an international trip.
One of its attractions is, without doubt, the route of its castles, where you can visit leyend places surrounded by marvellous landscapes.
You can rent a car in any Scottish city and let your imagination go with the beauty of this area and the Scotish leyends. It is a perfect combination of adventure, nature, tradition, culture and architecture.
Castles route
The Grampian Mountains region, in the Aberdeenshire County is one of the best places to visit the ancient medieval buildings that are sourrounded by dream landscapes that will be able to transport tourist to other ages.
Scotland has a marvellous route with well-marked roads, with a blue castle symbol to go from one castle to another.
Remarcable are buildings like the Glamys Castle, that is supposed to be enchanted.
From the Balmoral citadel, known as the summer residence of the England Queen, travelers can drive to the insides of this area where they will find castles as the Corgarrf, dated on the 16th century, or the Kildrummy one. Both of them own incredible leyends.
This northeast route has other important jewels like the Castles of Delgatie, Duff House, Craigiervar, Huntly, Crathes and Drum.
Near Edimbourgh, that is a perfect place to stabilsh the base to visit the castles and rent a car, are some other interesting and beautiful castles such as the Lintlithgow Palace or the Priori Inchmanome in the isle of one of the big Scotish lakes, where you can go by boat.
Near here is also the Ness Lake with its Urguhart castle, that is actually one of the most visited and recommended ones of this route.
But if there is a visit that seems to be a must are the Edimbourgh castles and the Striling one, dated, respectively, from the 6ht and 15th centuries and that keep the history alive among the years, with many leyends.
For those interested in this route, it is recommended to buy the Explorer Pass, a card that will let you the entry to 77 monuments and that is profitable if your main activity in Scotland is the castles and museums visits.
You must take into account that mainly all the monuments close their doors at 17.30, so it is recommended to visit everything you can during the morning.
Another important thing you must know talking about accomodation is that, in many occasions, these castles and touristic places own good youth hostels where you can rest and which prices are very affordable.