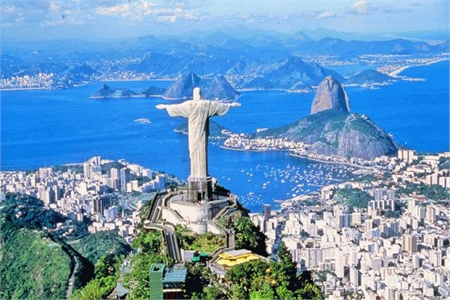 Just to start, we have to say that Brazil is a huge country that you cannot visit in its totality in just a few weeks. That is why the intelligent traveller decides to visit the main cities and the most popular spaces of its geography and leave for a future trip some more destinations. We are going to talk about the six main things you should visit in your first trip. Just take a look!
5 musts if you travel to Brazil
1. The Redeemer Christ: who can avoid one of the most famous monuments in Brazil? We are sure you have imagined yourself in the top of the Christ. It is like the Eiffel Tower in Paris or the Empire in NY. You can reach the top of this figure for around 45$. This includes also the train to arrive to the high hill and also the visit.
2. Corcovado Mountain: is almost included during the Redeemer visit. This peak has almost 700 meters high and you can try to reach to it just by walking up all the stairs of a narrow road. If you decide this option, you will spend about 3 hours and a half. The Redeemer Christ schedule is from 8.30 to 18.30. From here you will find the best landscape and views of Rio de Janeiro.
3. Sugarloaf Mountain: also located in Rio, this peak is one of the main natural spots of the city, just 400 meters high. If you travel to this city, you cannot miss the possibility to arrive to it through the glass teleferico, where you will share about the 1400 meters high with more than 70 people more.
4. Copacabana Beach: maybe it is one of the main destinations and the most popular ones if you are thinking in Brazil. The main attraction is that this is one of the most beautiful urban beaches of the country and you can also try some water sports like surf.
5. Iguazu Falls: between Brazil and Argentina, this falls are considered World Heritage because of what they represent in terms of beauty and natural meaning. The National Park is located in the Brazilian geography and it is located in the Parana State. Through the 2000 square kilometres you can find this beauty for about 15$.